The coronavirus has brought intense challenges to our industry--ones we have never had to face. Even in this shifting environment, however, there are two things we can hold on to with certainty:
Our industry has always shown unmatched teamwork and tenacity in the face of global crisis--whether economic, or humanitarian.

This time around, we not only have each other--we have technology in our corner as well.
Digitization has already strengthened partnerships and streamlined processes across the wholesale value chain. As we navigate this time of unpredictable change, data and technology can help us respond in ways that will not only keep our industry stable--but also reveal new opportunities.
Here's how JOOR's technology can help your brand solve challenges now:
1. Remove ANY potential friction to make wholesale seamless for your buyers
Don't lose today's high-stakes game on a technicality or oversight. With the current shift to remote-only buying, leave no digital detail behind!
Perfect your brand Profile. Make it easy for buyers to understand your brand and what you offer quickly, easily, and visually. Fill in ALL the blanks: complete the 'About Us' section, add social media links, carousel your campaign images, feature lookbooks, show videos, add linesheets, feature press mentions, and more.
Seamlessly sell your wholesale product online. Buyers can now make purchase selections AND process payments directly on JOOR. Make sure your retail partners understand they can easily shop your linesheets this way, and make sure you understand all your opportunities to curate their experience.
Help your buyers help themselves. Some of your buyers may have always placed orders at market or during other in-person opportunities. Confirm that you're connected: only retail partners linked to you on JOOR can shop your linesheets. If retail partners need help connecting, walk them through the process; and if you need help showing them how, contact us via live chat from your JOOR account!
2. Re-purpose inventory
Brick and mortar has paused, and some retail partners may be cancelling orders. As a business you need the ability to react nimbly to combat this sudden, unexpected change of inventory levels. Leverage the JOOR platform to get excess inventory into the hands of ecommerce partners who can sell it. Fast.
Rely on your reporting suite and run swift reports to 1) help you spot cancelations and other issues as they develop, and 2) pinpoint real-time opportunities with ecommerce partners based on their past buying and current demand.

Using this discovery, easily create custom curated linesheets at scale--featuring your excess inventory and designed to appeal to your potential buyers' needs and profiles. Make sure to update your privacy and Inventory Settings to ensure only your intended prospect(s) get to view. Act nimbly to capitalize on possible opportunities. Consider promotional pricing: the faster you pivot, the more options you'll find.

JOOR Partner Cable Melbourne shares their recommendation for other JOOR Pro brands
3. Smooth out supply chain issues
The global virus has caused global interruptions. From your orders page, you can optimize bulk management to get ahead and pivot quicker during uncertain situations.
Among the bulk actions available, leverage your Resend Emails action to send general communications to one or a group of buyers at once. These emails are customizable to the audience and can save your team time and sales dollars.
Use your bulk Cancel / Replace Style options to offer substitutions for any items your retail partners may have ordered that are currently delayed.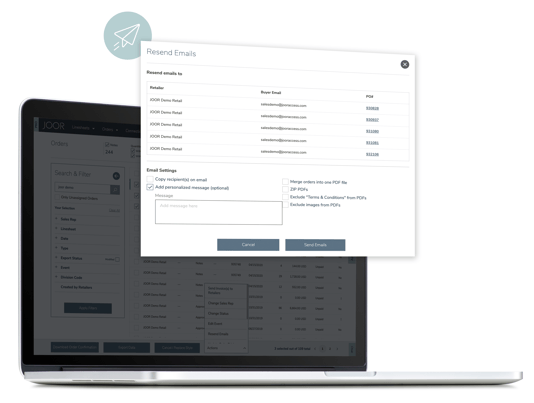 JOOR Pro brands can resend general communications to one or group of buyers at once
4. Rely on your customer success manager, and on JOOR customer support.
Now, more than ever, your JOOR team is here to assist you in every way possible. Reach out to your CSM to:
Pull the right levers for success in today's environment, and refresh your general know-how. Your CSM will provide hands-on training on the pointers outlined above--tactics needed to succeed during this difficult, transitional time. He or she will also refresh your overall understanding to make sure you can get the most out of every aspect of JOOR.

Put JOOR to work specifically for you. Your CSM will help you optimize JOOR to serve your brand's specific needs and circumstances, at this particular time.
JOOR has the commitment--and the capability--to help our partners navigate this period of fast and uncharted change. We will continue to provide best practices as they emerge, and continue to collaborate and to innovate--ensuring that, together, our industry comes out stronger and even more resilient when we do reach the other side.
Please schedule a personalized consultation with your JOOR customer success manager and let JOOR start helping you more today.